It's been a busy week, and it looks like things will just be getting busier and busier for me. My new job is starting to really pick up, and by mid summer I expect us to be in full swing! I will keep you posted on this exciting new venture of mine as details develop. For now, we are in such "baby steps" mode that I feel I should keep mum on the word.
SO, finding time for trying fun new recipes has been hard. But

, finding time to try fun new things hasn't!
The Ben & Jerry's Ice Cream is on sale at Shop Rite by us this week, so I picked up a couple of flavors since our ice cream maker broke (that was the main way we'd been enjoying ice cream for the past 2 years). I got Irish Mudslide which was good, but I also got a flavor of their new Greek Frozen Yogurt line- Banana Peanut Butter. And that was really good!

I didn't really know what to expect, but you know Ben & Jerry's rarely disappoints. It's banana flavored Greek style frozen yogurt with swirls of rich peanut butter. Yummmmmyyyy. Add some hot fudge and fresh strawberries and you might think you're eating a banana split!
Next time you see Ben & Jerry's Greek Frozen Yogurt at the supermarket, don't be afraid to give it a try! There are a lot of good flavors out!
Note: I was not paid or asked to write this review, I did it by my own accord. Do you know a great product I should review, or a product you're curious about but afraid to try? Let me know in the comments! Just please suggest a natural, organic, eco-friendly, or health or food-related product so it will at least coincide with my blog's theme, thanks! OR you can send me a product you'd like me to review for you, contact me at healthymommyhealthybaby@gmail.com for more details regarding that.
Now it's your turn to share! This week's guest hostess is Julie from Naptime Review. Please follow me if you have not done so already, and Naptime Review.
Then link-up something sweet to share- a blog, an Etsy store, an FB page, Twitter page, Pinterest, whatever! Hop around and say hi. Grab a button to spread the word! Have a great weekend!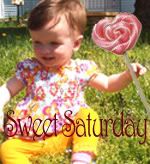 We hope to go the beach this weekend, what are your plans?
Thanks for stopping by! Have a great weekend!