Forgive me for not posting yesterday, but after the week I had, I needed a break! Not only that, but my internet was acting whacky Thursday evening (when I usually draft Friday's post) due to a couple of brown outs from the intense heat we had here in NJ. Then poor Lily contracted what may be Hand, Foot and Mouth Disease (although it appears to be a very mild case), so I just had to take care of her first and foremost, as all you mommies know!
Yet, I did find some time to try out this sweet and sour and refreshing drink, that combines sour lemons, refreshing cucumber, tangy ginger and cool mint. Do I have your attention yet..?
Loaded Lemonade
(makes one full pitcher)
Ingredients:
6-8 large lemons (or 1 1/2 cups lemon juice)
1 large cucumber
2 cups water
1/2 cup honey or agave syrup (to taste)
1 hunk of ginger
Fresh mint leaves
Slice and dice cucumber, then place into blender with water and blend until smooth. Pour the mixture over a strainer into a pitcher, then return liquid to blender. (This is optional, you may like your lemonade chunky!).
Next, add the lemon juice, ginger, and honey or agave. You can use sugar instead, but it's better to use a natural sweetener, so I'd recommend raw sugar if you have it. You can also make a sugar syrup by dissolving the sugar with water over low heat in a small saucepan.
I used a hunk of ginger this size
Blend the added ingredients with the cucumber juice mixture. Add more sweetener or ginger to taste if desired. Serve over ice with fresh mint leaves and sliced cucumber and/or lemon. Pucker up! This is a drink everyone will love, but may not be good for kids under 1. Give children under 3 a watered-down version (I give Lily half juice, half water). This is the perfect summer cooler!
For the adults: Vodka or gin go nicely with this too ;)
I was inspired to add the ginger after I read this blog post from The Tasty Alternative. They have a lot of awesome recipes and info, so check them out!
Lemons are an amazing fruit! Not only are they good for your insides- high vitamin C content, aids in digestion, lowers blood pressure, prevents diabetes -but, they are also helpful in a number of other ways. They can be used as an antiseptic, household cleaner, acne treatment, hair treatment, and so much more. Click here to learn more. Lemons are also a high alkaline food, so they can help keep your body balanced and capable of healing itself.
Now it's your turn to share? Follow me if you aren't already, t

hen link-up something sweet to share- a blog, an Etsy store, an FB page, Twitter page, Pinterest, whatever! Hop around and say hi. Grab a button to spread

the word! Have a great weekend!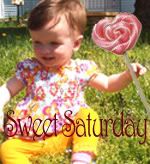 We had ice cream yesterday :)









P.S. Sorry about the weird spacing on here, I can't figure out how to adjust it. This has happened before- does anyone know what I can do?