Today I'd like to introduce you to a blog that I instantly fell in love with. I love the picture-perfect layout, I love the name, I love the photography, and most of all I love the posts!
Holli's Full Hands, Full Hearts has it all- delicious recipes, fun activities to do with your family, product reviews/recommendations, ways to be Earth-friendly, Holli's adventures with her family, and more! Her latest post features some gorgeous and adorable pictures of her family's encounter with a hot air balloon; just to see the sweet pictures she caught is worth the look! Another recent post that she linked up to my Sweet Saturday hop sited 10 different fun activities to do with your toddler. I especially liked the "Letter of the Day" idea :)
Holli takes great pictures and writes posts worth reading. I always look forward to seeing what she has to share. She's also super sweet! Please check her blog out!!!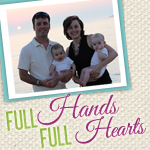 I have some blogs in mind for the next Up-and-Coming Blog of the Month, but if you would like to nominate one, please do so in the comments. The only requirements are that the blog has 200 or less GFC followers, is continuously updated, and has to do with parenting, health, crafts, cooking, and/or creativity.