For this Meatless Monday, I'm keeping it simple. I ate a whole lot of less-than-healthy food this weekend, mainly because it was convenient and readily available. Sneaky unhealthy food...so, this week I will be starting fresh and enjoying a nice salad for my Meatless Monday.
One thing I did make that was wholesome and yummy were these quick and easy sweet potato fries. I've made a version of these before with Russets, but this was the first time with yams, and they came out really good! I had them with a freshly-made crab bisque which I will share with you later this week...
Don't you just love this gorgeous dish I found at a garage sale?
Easy Old Bay-Style Sweet Potato Fries
(serves 2-4 as side dishes)
2 larges yams
2 tbsp olive oil
1 tbsp Old Bay seasoning
Peel the yams, then cut into halves length-wise, and then quarters like in the picture below. Preheat oven to 425, then prepare baking sheet by brushing some of the olive oil onto it lightly. Next, line up the sweet potato wedges on the sheet like in the picture below, then brush wedges with the rest of the olive oil. Before you put them in the oven, sprinkle with the Old Bay seasoning. Bake for 25-30 minutes, or until brown and crispy to your linking. Serve with extra olive oil or other dipping sauce if desired.
And that's it! So easy! Gotta love that ;)
If you're not familiar with Old Bay seasoning, it is a combination of salt, celery seed, red pepper, black pepper, paprika, and "other" spices. That's according to the Old Bay website; according to this website, there are a lot of "other" spices in it. Not sure I can taste any cardamom or ginger, but it sounds like they would be a nice addition!
These fries are also kid-friendly, although kids with sensitive taste buds might find it a bit spicy with the Old Bay. For babies over 6 months, you can make them with only olive oil- they will love it! Just make sure it's cool enough before serving. They will likely only eat one or two, unless you have a big eater!
Now it's your turn to share your Meatless Monday dish below!
No rules, other than please only link-up meat-free recipes. No other un-related links or I will remove them. Sorry to sound so harsh, but let's keep it true to what it is, ok?
Link up as much as you want, and feel free to spread the word with the button below. Thanks, and have a great week!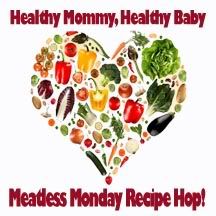 What are you having for Meatless Monday???