Once again, we had a great turn out last Sweet Saturday. Yay! Thanks to everyone who linked up! Let's make it BIGGER this time, ok? I'm officially addicted to having a large turn-out at my link parties now :) ...
Today's recipe was inspired by this tasty-looking treat I came across last week that I just had to try: Strawberry Lemonade from Addicted to Recipes. Mine is a little different because I used less sweetener and added kiwi since I had 2 that were a bit overripe and needing to be eaten. The result came out REALLY GOOD, so I hope you like it enough to try it. Let me know if you do!
What a pretty color, right?
Strawberry-Kiwi Lemonade
(makes 1 pitcher full)
Ingredients:
3-4 lemons
1 cup strawberries
2 kiwis
1/2 cup sugar or 1/3 cup stevia
1 1/2 cup water
1 small aloe leaf
4 cups water
Heat the sugar or stevia with the 1/2 cup of water over medium heat until dissolved, stirring occasionally. Remove from heat once sugar or stevia is completely dissolved and allow to cool.
Meanwhile, j
uice the lemons and set aside. Hull and halve then quarter the strawberries then put into blender with 1 cup if water.
Strawberries in water
Slice the aloe leaf lengthwise so one side of the leaf exposes the gel. Scoop the gel out and add it to the strawberries and water. Next, add the sugar syrup and hit puree. Lastly, add the lemon juice and water. You can just mix them together with the strawberry concoction if your blender has a "Mix" or "Stir" setting, or just pour everything into a pitcher and stir it up that way.
It will look like this once you blend it all up
And you may have a mess to clean up that looks something like this
You can serve this sweet and refreshing drink with fresh fruit or mint as garnish. Additionally, you could also add some ginger and/or cucumber to the mix, similar to the last lemonade recipe I posted. I recommend allowing to sit your fridge overnight, or at least for a few hours, before serving, to allow the flavors to blend properly. I know my first sip was almost too sour-tasting, but the next morning when I had a glass it was perfect!
This lemonade is particularly healthy and detoxifying with the added benefit of aloe. Aloe is already largely well known for it's cleansing benefits, as well as its soothing benefits when used topically on burns. But, did you know aloe also helps to halt tumor growth, lower blood sugar and cholesterol, prevent kidney stones, and boost cardiovascular performance, among many other things? Read this link to learn more!
This is terrific punch to serve to your family, friends, or at a party. It will be a hit with everyone, especially the kids. Adding the kiwi to this makes me reminisce about the Strawberry-Kiwi flavor Snapple used to make, but this is so much better! Better tasting and better for you ;)
Notice I added aloe gel to this; I use aloe all the time. It's the best burn treatment and can easily be added to any fresh juice of smoothy. But, alone it tastes rather bitter. You can even use it as a moisturizer and to speed up the healing process on cuts and scrapes by apply a little bit right onto the wound. Aloe truly is a wonder plant!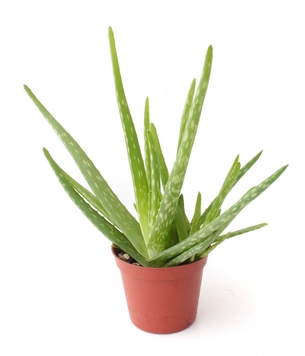 This is how one of my plants looks when the leaves aren't all chopped off. This image is courtesy guide-to-houseplants.com
I will warn you of one thing when consuming aloe, though: it's diuretic, so don't give too much to little ones unless you want them to poop a lot! Just a tip ;)
OK, now it's your turn! Follow these simple rules:
1. Link up something sweet to really WOW us all- your blog, Etsy store, Pinterest, Facebook, whatever you want!
2. Link-up as much as you want and please follow me if you aren't already, and our guest-hostess, Mary, at A Day in the Life. Leave us a comment if you are a new follower so we can follow you back!
3. Hop around and say hi.
4. Share my button to get more people to join us (not required, but it would be nice!)
Please show Mary and her lovely blog lots of love, she's new to the blogging scene- plus she has really cute twins for you to ogle!
Thanks so much for linking up, I really do love the weekend even more because of this :)