I made spaghetti a few days ago, and we ended up having a lot of leftovers because a friend of mine who I thought was going to join us d

idn't end up making it.
And it just sat in my fridge for a couple days, like leftover pasta tends to do- it's just never the same when you have to reheat it. Thinking it may have to get tossed out once I finally remembered it

was

there, I then recalled my desire to want to make spaghetti pie. Paul's mom makes one that is very simple and chilled that he really enjoys, but I was in the mood for something more hearty

, and I came up with this one that is sort of like a spaghetti pizza...
Spaghetti

Pizza Pie
(serves 4-6)
Ingredients
Approximately 8 oz

cooked spaghetti
2 eggs
1 cup grated Par

messan and/or Romano cheese
1 cup shredded or sliced mozzarella
1 cup

tomato sauce
1 tsp oregano + extra
1 tsp basil +

extra
Preheat the oven to 350 degrees. Beat the eggs and stir in the grated cheese, basil, and oregano in a large bowl. Add the cooked spaghetti and mix with egg mixture until well combined. Press pasta mixture into a 9" pie pan as you would a pie crust, leaving a slight indentation in the middle. Pour the tomato sauce on to the indent in the spaghetti "crust", then top with the mozzarella cheese and extra seasonings (if desired), like in the picture below. Bake for about 20 minutes, or until cheese is all me

lted and a little brown on top. Allow to cool for at least 5 minutes before serving. We enjoyed it with a nice green salad.
So simple and so good; this really hit the spot! I can't wait to make it again and get even more creative by adding other toppings like fresh tomato, spinach, and peppers. You can even add pepperoni or sausage on a non-meatless day ;) Paul liked this version

, too, but said he still prefers Mom's. Oh, well, I did my best! I like tomato sauce on my pasta, what can I say?
Enjoying her pasta
Using whole wheat pasta can provide you with a large serving of fiber, beneficial nutrients and minerals, and reduce your risk for heart disease. I tried Ronzoni Smart Taste® spaghetti for this recipe instead of whole wheat. It is white pasta that is enriched with fiber and calcium. It definitely didn't taste like wh

ol

e wheat, but I don't know if its health benefits really match using regular whole grain. Sometimes you just

prefer the taste of white pasta for certain recipes, but I think either kind could work for this one.
Now it's your turn to share your Meatless Monday dish below!
Share your turkey-alternatives or

other yummy Thanksgiving favorites.

No rules, other than please only link-up meat-free recipes. No other un-related links or I will remove them. Sorry to sound so harsh, but let's keep it true to what it is, ok?
Link up as much as you want, and feel free to spread the word with the button below. Thanks, and have a great week!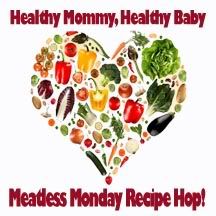 Thanks f

or stopping by and linking up!