I got this idea for a protein-packed, super thick smoothie from the aptly-named, Green Thickies blog. I had heard about it being possible to make a smoothie using cooked quinoa, but after Katherine Natalia linked up her version onto Meatless Monday earlier this week, I decided it was high time I tried it!
I happened to have some recently purchased quinoa in my cupboard, along with other things that could easily be used to make a good-tasting and super healthy smoothie. No green stuff left (I had just made a big batch of kale pesto!), so this was all fruit, protein and omegas! The quinoa gave it a slightly nutty taste, but other than that, it tasted just fine!
Banana-Mango Quinoa Smoothie
1 cup cooked quinoa
1 banana
1 mango
1 cup coconut-almond milk, or milk or your choice
1 tbsp honey
1 tbsp shelled hemp seeds
Ice cubes (optional)
Cook the quinoa ahead of time according to package instructions; it is just like cooking rice. Toss all ingredients into blender and hit "Blend" or "Puree", depending on how smooth you want it. Pureeing will make it less "chunky", as the quinoa will create some minor lumps in the smoothie. I kind of liked that! Serve with ice is desired.
The smoothie came out so thick that the ice cubes rested right on top of it! I thought this helped to make it easier to drink, but if you like it extra thick, then this is the recipe for you! You can even blend the ice cubes right into it.
Other ingredients you can add:
vanilla extract

ground flax seed (this will give it an extra nutty taste)

soaked raw almonds and/or cashews

peanut butter (or other nut butter)

pineapple

peach

melon

spinach

just about anything that goes well in a smoothie!
Quinoa is considered a super food, and contains such a high amount of protein, it is called a "complete protein" since it contains all the amino acids needed to meet our nutritional needs. It is also high in other important nutrients, such as iron, calcium, copper, and manganese, to name a few. It is gluten-free and incredibly versatile to cook with, making it a great addition to soups, salads, breads, and even cookies!
This is a great smoothie for the whole family, perfect for enjoying with breakfast. It can easily replace your coffee with the amount of healthy carbs it contains to jump-start your day. Simply add whatever fruit you and your family enjoy most to make it work for you.
OK- now it's time for the hop! No guest-hostess today- sorry! I just didn't have time to organize that aspect this week. Just follow these simple rules:
1. Link up something sweet to really WOW us all- your blog, Etsy store, Pinterest, Facebook, whatever you want!
2. Link-up as much as you want and please follow me if you are not already. Leave me a comment if you are a new follower so I can follow you back!
3. Hop around and say hi.
4. Share my button to get more people to join us (not required, but it would be nice!)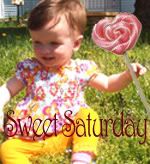 Thanks so much for linking up, I really do love Fridays even more because of this :)