Thanksgiving has come and gone, an

d I am just getting back into the swing of things

after

returning from my tra

vels to North Carolina (I hope none of you missed me too

much!)

. I hope everyone had a nice one, too. I was visiting my mom's side of the family in North Carolina. It was an especially momentous gathering since my grandmother intends to move out of her house- the house she has been living in for the last 35 years –by next spring. The very house where I, my sister, and our cousins spent many a fine summers exploring the woods out back, building dams in the creek, hiding in Grandpa's garden, and enjoying Grandma's homemade treats like cookies and pancakes every day of each visit. The very house where,

each

December, Grandma always had the biggest, nicest tree my young eyes had ever seen, and where we'd join her in the Love Feast Mass at her Moravian church on Christmas Eve, and, if we were lucky, we'd get to catch the Christmas light garden, too. The very house where my parents and then my sister got married in the backyard, where I learned the joys of outdoor trampolines, where I used to spend hours catching salamanders and snakes and crawfish and other creepy crawlers (those were my tomboy days!), and where I'd hoped my little Lily would get to spend at least a few good years experiencing the splendors her Great Granny's home had to offer.
It was a bittersweet visit…mostly sweet, though

:)
We had the whole family there for the first time in years; there is usually at least one of us who can't make it at the same time as everyone else, but this year, somehow we managed to do it. My eldest cousin's wife recently gave birth to her first child, a sweet baby boy named Declan. My sister has another on the way, plus a toddler who thinks the world of Lily. We ate lots of good food, played Scrabble and Scattergories together, watched a few good flicks, and enjoyed the surprisingly warm and sunny weather.
I didn't get to make anything for Thanksgiving since we got there a bit later than planned and I had other things to do, but I did bring along these yummy Chocolate Chip Banana Bread Cookies and they must've been a hit because they all got eaten up

:)
Chocolate Chip Banana Bread Cookies with Flax
2 ½ cups whole wheat flour
2 cups dark chocolate chips
1 tsp honey + 1 tbsp water
Preheat oven to 375 degrees. Combine flour, baking soda, salt, and ground flax in bowl. In a separate bowl, combine butter and honey, then beat in banana, eggs and vanilla. Slowly stir dry ingredients into bowl of wet. Once well-mixed, add in the chocolate chips.
On ungreased baking sheets, drop spoonfuls of cookie dough at about one inch apart. Place sheets on center rack in oven and bake for 10-12 minutes, or until nicely browned on top. While cookies are in oven, mix the 1 tsp of honey with 1 tbsp water in a small bowl. During last 2 minutes of baking, brush the tops of the cookies lightly with a little of the water and honey mixture, then sprinkle on flax seeds. Put sheets back into oven and continue baking.
These cookies are nice and moist and don't taste "too healthy" at all. In fact, you could probably even add a cup of rolled oats to the dough to pump up their grain content even more. Mmm…that sounds really good, actually.
Soft and sweet and full of banana, flax, honey, and whole grain goodness, you won't feel bad about treating yourself or you family with these cookies!
And now for our most-clicked Thanksgiving-themed features!
Appetizer/

Centerpiece
S
herry from Jazzy Gourmet shared this incredible bread dough cornucopia. Just look at it! She even has a how-to video on her blog for your viewing pleasure. This is something I really want to try next year. Thanks so much, Sherry!
Main Cours

e
Mary from Mary's Kitchen always shares wonderful posts with us. For Thanksgiving, she linked-up two recipes for some yummy turkeys and everyone checked that out! Thanks, Mary!
Dessert!
Good Girl Gone Green hits the bullseye on the awesome meter once again with this vegan version of green tea hot chocolate. Perfect pick-me-up for those chilly winter afternoons. Thanks, Stephanie!
Our most-clicked overall were

:
Thanks to everyone wh

o linked up, and welcome new linkers! Grab a button below if you were featured!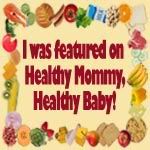 Now that November is ending, it is officially Christmas time! (and I'm sure many of you have already started early). I intend to post at least 1 holiday-themed post each week, along with the weekly Meatless Monday

Recipe Hop and Sweet Saturday Link Party. Let's hope I can keep it together and stick to that schedule!
Thanks for stopping by, this little get together really makes the weekend even more enjoyable for me, and gives me the encouragement to kee

p my little blog going :)