Hello, my lovelies. 'Tis the season, as we all very well know...you can't walk down the street without hearing Christmas carols blasting on speakers, without seeing lights and tinsle decorating every home and storefront you go by, or without encountering someone in a Santa suit at some point in time during the month of December. Which brings me to the current dilemma I have at hand concerning the Fat Man in Red...
Lily is less than a year old- 21 months to be exact. She has a pretty limited vocabulary at this time, her favorite words being "mama", "dada", "Ogum", "more", and "yeah." "Ball" has also become a new one she likes to say several times a day and address to anything resembling a sphere, from Christmas tree ornaments to oranges to actual balls. Somewhat surprisingly, a new word has entered her index that I didn't expect her to learn so soon, and it's "Santa." It actually comes out sounding more like "sana" from her young tongue, or sometimes "sasa." But, this word is only used when she sees any likeness to the one and only Santa Claus.
Paul and I talked about how we'd handle the whole Santa thing- should we play along with the game of pretend? Use it to our advantage to get her to behave, like so many parents do? Or should we take the more truthful, but far less fun, route of filling her in on the Santa myth early and not buying into something that may just confuse her and have more extreme repercussions later in life? Paul wanted her to have fun with the classic Santa tale, but also liked the idea of being more honest, and so did I, yet we couldn't help but realize that she may end up spoiling it for other kids who do believe in Santa Claus when she tells them what her parents told her. Hmmm...how to handle such a dilemma?
So, you must know what I'm asking here now: how do you handle Santa Claus in your home? Whether you're a Christmas celebrator or not, I want to hear from you! Does your child or children believe in Santa Claus, and if you have older kids who know the truth now, how did you break it to them? Or how did they find out? Do you stand by your decision? Would you do anything differently if you could go back? If you don't play the Santa game, what do you do instead? How do you keep your kids from spilling the truth to their peers?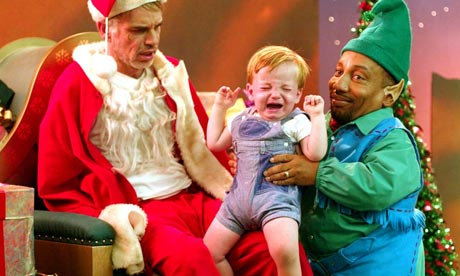 Tell me in the comments, I really want to know! Lily is still young and I want to know what the best route is since I'm still unsure of what the future holds for the Santa myth in our home. It's really sweet to see her enjoying Mr. Claus' image so much (she has a little rattle toy of his likeness that she hugs and kisses all the time!), but I don't want to give her the impression of consumerism and material things being such an important component to the Christmas holiday. I spoke to Paul as I started writing this, and his answer was (as it tends to be): "just let it evolve, let her have fun." What do you think? Am I reading too far into this, or is it a legitimate cause for concern?
Thanks for your responses, and thanks for reading!!