Do you love synchronicities? I do, and I just noticed I've published 70 posts (now it's 71 though) and now have 70 followers. Perhaps I should play the lotto with number 70???
I just thought that was cool and that I would share :) I hope you found it interesting too!
Anyway, I have had the longest week and just want to keep today short and sweet, hence another Sweet Saturday blog hop. Yay! It's almost my baby girl's 2nd birthday and I thought I would share some pics from her 1st birthday just for fun, and because they're sweet! I made a really sweet cake that year, and am trying to decide what to do this year. She really likes chocolate now, so I am thinking a healthy version of a chocolate strawberry shortcake. What do you think?
Getting some love from Auntie
The cake!
The decor!
The fam :)
waiting for her cake...
with her present from Grandma
Thank you, Grandma!
I'm also trying to decide what theme to use. So far these are the choices I've come up with in relation to what she's into these days:
Elmo/Sesame Street

Animals

Mickey Mouse

Dancing

Cats and dogs
This year we'll be inviting a lot more people than we did last year, so I've already started planning. I just gotta send the invites and pick a theme already (I should probably choose the theme first, right?).
If you have a sweet birthday party-related story to share from your blog, please link that up! Of course, you can link whatever you like as long as it's something sweet. It can be a blog post, an Etsy shop, your lovely website, your FB page, whatever! Link as many as you like, just don't link the same thing more than once, thanks!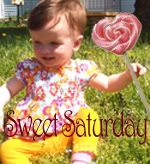 <a href="http://jessica-healthymommyhealthybaby.blogspot.com/" target="_blank"><img src="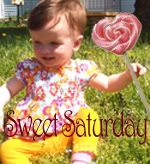 " alt="Healthy Mommy Healthy Baby" width="125" height="125" /></a>