Today I'll keep this short and sweet (see what I did there??). Right now I'm watching Lily build with her foamy blocks in a tub full of bubbles, and once she's done and dressed for bed, I'll be getting ready for GIRLS NIGHT OUT! Whoo-hoo! So, I figured I'd better post this early since I made need time to re-cooperate tomorrow and not worry about blogging. Let's consider this hop "Sweet Weekend Blog Hop" :)
Today I'm sharing some cute pics of Lily eating a banana, and our favorite smoothie recipe :D
It was her first time eating a banana with the rind on it
Strawberry-Banana-Peanut Butter Smoothie
1/2 cup milk, almond milk, soy milk, or coconut milk
1 big spoonful of peanut butter
Throw it all in your blender and blend away! This makes 2 large servings or 4 small servings, so add ingredients accordingly. Enjoy!
Now it's your turn to share!
L
ink whatever you like as long as it's something sweet. It can be a blog post, an Etsy shop, your lovely website, your FB page, whatever! Link as many as you like, just don't link the same thing more than once, thanks! And please just follow me, your hostess, preferably by Linky Followers since GFC is ending very soon. Or better yet, subscribe!
Have a great weekend!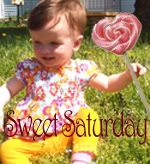 <a href="http://jessica-healthymommyhealthybaby.blogspot.com/" target="_blank"><img src="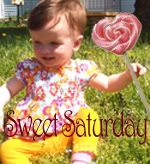 " alt="Healthy Mommy Healthy Baby" width="125" height="125" /></a>