First of all, I just wanted to share this picture of my perfect breakfast that I took this morning:
I thought it just looked too pretty not to share :)
Now, enjoy this:
Puckered Papaya Smoothie
serves 2-4
1 cup chopped papaya
1 ripe banana
1/2 cup orange-pineapple juice
1/2 cup almond coconut milk
1 tsp honey
Juice of half a lime
Lime wedges for garnish
Put all ingredients except for the lime wedges into blender. Blend or puree until smooth. Serve in glasses with lime wedges. Tip: rub the lime wedge along the rim of the glass to get that puckered lime taste each sip!
Boosts you can add:
aloe vera juice
hemp seed powder
coconut oil
protein powder
super greens powder
ginger
Add about 1 tsp each per serving for maximum benefit!
The whole fam will love it! Make a big batch and share it at a party or gathering. This would be a hit at your Memorial Day weekend BBQ!
I just love papaya, and I certainly don't eat it enough. They are technically in season June-September, but Paul came across this yummy smoothie recipe and I just couldn't wait! Besides being positively delicious, papayas are full of so much healthy goodness. They have high amounts of vitamin c, vitamin a, folate and potassium. They protect against heart disease and aid in immune support and digestion.
They have also been found to prevent macular degeneration (primary cause of vision loss in older adults) and when combined with green tea, papaya can protect against prostate cancer! Papaya is considered by many to be a super food.
Now it's your turn to share something sweet with the return of Sweet Saturday Link Party! Link up a sweet treat, a sweet post, a sweet photo, a sweet Etsy shop or Facebook page- whatever you want! Just remember to follow your hostess and, if you'd like to, share the link on your page or blog with the button below. Whoever's link gets the most visits will be offered to co-host next week!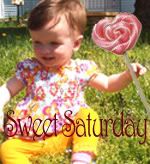 Have fun and share as much as you'd like! Have a great weekend!
Oooohhh, I almost forgot- I FINALLY joined Pinterest, so be sure to follow me and/or pin this sweet little recipe. I'm new to it, so feel free to "show me the ropes" ;)