Life is starting to get very full again (for example, I meant to post this yesterday, but didn't seem to find the time). I recently took on a couple of new "big" projects for work, and since I work in retail, this just reminds me all the more that the holidays are upon us. I have most of my shopping done (kept it very minimal this year, only shopping for the little ones in my life at Etsy and local shops!) and baking recipes are brewing in my head daily. Hence, why I made this month "baking month" so I could test out new recipes and perfect older ones and make my final decisions on what to give as gifts this year. At this time, I'm thinking: Flax 'n Coconut Chocolate Chip Cookies, White Chocolate Coconut Cookies, Vegan Sugar Cookies (for the friends and family in my life with allergies), Honey 'n Flax Whole-wheat bread, and Banana bread. Is that too much coconut and flax? I figure, they're healthy and tasty and I have been using them in cooking and baking a lot lately, so why not? What do you think?
The recipe I chose to share with you today could be a contender as well, although they cost a bit more to make since they use so much honey to make them sweet. They are AWESOME though! They have gone over really well with friends and family interested in healthy eating, although I will be honest and say that the sweet-tooths in my life thought they needed to be sweeter! If you try this recipe and want to sweeten it up more without sugar or more honey, I'd recommend adding about ½ cup chopped dates. I like them just the way they are, and I hope you will too! Once again I have adapted this recipe from my favorite magazine, Eating Well.
Honey, Flax 'n Almond Cookies
2/3 cup + ¼ cup honey, divided
4 tbsp unsalted butter at room temp
Extra flax seeds or sliced almonds for garnish (about ¼ cup combined)
Mix the flours, almonds, baking powder and salt together in a large bowl and set aside. Beat the 2/3 cup honey, oil and 3 tbsp of butter in a separate bowl until well combined. Add the egg and vanilla until well blended with the rest of the mixture, then combine the wet ingredients with the dry. Refrigerate the dough for 1 hour.
Preheat oven to 350 degrees. Coat cookie sheets with a little coconut oil or butter, (unless they are non-stick, which I don't recommend due to carcinogens). Mix the rest of the butter and honey together until well combined. Roll dough into small balls (about 1 tbsp each) then line on cookie sheets about 2 inches apart. Press the back of a very shallow spoon (I use a tablespoon) or your thumb into the balls so it makes a shallow indentation, enough to fill with some of the honey-butter mixture. Spoon a small amount of the honey-butter mixture into each indentation. Top with a couple slices of almonds and/or a sprinkling of flax seeds. Place on center rack in oven and bake for 12-15 minutes, until golden brown.
I think I could use some new baking sheets, what do you think?
Alternatively, you could fill the cookies with jam instead, or as well. That's what I did when I first made these cookies and was experimenting with things as you can see.
With honey-butter, with honey-butter with flax seeds, and with blackberry jam
In the original recipe from Eating Well

, it says to add the honey mixture after the cookies have baked. When I did this, the honey didn't set right and got all runny. Putting the honey-butter mixture in before baking will help it set without getting too tough. The jam, however, may get a little tough, so you may want to wait for about 5 minutes into baking before you add jam to the cookies. I found that depending on the type of jam you use, it could come out a little rubbery and separate from the cookie when you bite into it. The less runny the jam, the less likely it will get rubbery.
There is so much awesomeness in these cookies, I just love them! They're healthy and taste really good, so healthy in fact that you could even eat them for breakfast without feeling guilty about it. One of the best things about these cookies is the amount of wonderfully rich and delicious honey in them, which I think is like the nectar of the Gods! I adore honeybees for so many reasons- they really are what make the world go around if you ask me. If it weren't for honeybees, we'd have no one to pollinate the plants, and the world as we know it would completely change for the worse! You may have heard various things about the dwindling honeybee population and the reasons for it, such as pesticides, global warming, and even cell phone usage. I'm not here to talk about that plight today, as there is still so little concrete evidence for any single reason why the bees are disappearing (all I know about that is that it really stinks!). Instead, I'll focus on the benefits of honey and hope that that will draw enough attention to how amazing bees really are. If you want to learn more about the disappearing bees, click here.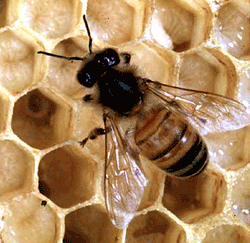 Honey is first and foremost incredibly healing when it comes to viruses and infections. Have a sore throat? Take a spoonful of honey and if it doesn't go away in minutes, keep taking it once an hour until you feel better. Got a nasty cough? Try taking some buckwheat honey to beat the infection and sooth the chest pain. Weak immune system? Take a spoonful of honey everyday

and you will boost it by at least 50%! So, skip the sugar in your tea and add honey instead, because as you'll learn if you make these cookies, honey is probably the best sugar replacement available! Do note though that honey is sweeter than sugar, so use about 25% less when using it to replace sugar in recipes. Add more if desired.
These are also ideal cookies to give your little one who is at least over 1 year old. Lily really likes them and I don't feel bad about giving her sweets this way! Infants under 1 should not eat any honey though because of
Clostridium botulinum spores and toxins that can cause infant botulism, a life-threatening paralytic disease. Weird, right? Before I had Lily I never thought honey ever posed any risk. It's okay to use products like Burt's Bees on infants though, just make sure they don't eat it! Older kids will love these cookies too, and you can use the dough as a base for a variety of healthier versions of cookie classics.