Every so often I stumble across a recipe that gets me really excited. The requirements for such excitement usually are:
unusual prepartation or ingredients

uses ingredients in a way I never thought of

is not only delicious, but also healthy!
And I get especially excited when it's an easy-to-make dessert that is sugar-free and I just so happen to have all the ingredients readily available!
I came across the recipe for Frozen Yogurt Tahini Banana Cups (what a mouthful!) via Simple Living with Diane Balch (currently my favorite food blog, I might add!) when Fox in the Kitchen linked it up onto the Foodie Friday blog hop. Fox in the Kitchen has a wealth of awesome recipes on her blog, so do check her out, and she based the recipe off of the vegan version from The Veggie Nook (lots of good stuff there, too!). And she got the recipe from
Sketch-Free Eating, a blog that has many amazing raw-based recipes, and they got it from...somewhere. I couldn't find the original recipe on their blog, they have way too much amazingness on there that easily distracts me...
SO, with all that being said, you know this recipe has to be awesome if so many people felt the need to keep passing it on! I made a batch for a Sunday afternoon gathering, and I'm sorry to say they did not go over as well as I'd hoped, although I found them to be so yummy and delicious that I ate half the batch myself. They are lightly sweetened and just melt in your mouth! Not everyone is as enthusiatic about healthy-eating as I am. That's why I am so grateful for my blogging community that can appreciate recipes like these, at least I hope so...
I had the cute Disney cupcake liners left over from Lily's 2nd birthday party :)
Frozen Tahini-Banana Bites
(this is the exact recipe from Fox in the Kitchen, but I just think that title is less of a mouthful!)
Ingredients:
1/2 cup of cold-pressed coconut oil
1/2 cup tahini
1-2 ripe banana
1/2 cup plain regular or Greek yogurt
4 tbsp honey or agave (you can use less, but I thought this was the perfect amount)
1 tbsp raw sesame seeds
Pinch of sea salt
24 blueberries+ for topping (optional)
24 cupcake liners
Note: the recipe from Fox in the Kitchen says this makes 2 dozen, but I was only able to make half of that with this amount. Perhaps I used too much batter per cupcake cup, or perhaps I just used larger-sized cupcake cups than she did, but if you want to make the full 24, I suggest not to be too generous with filling each cup with the mix.
What I used
Combine the coconut oil, salt, honey or agave, and tahini in a small bowl; it will work better if the tahini and coconut oil are softened or melted. Next, add the yogurt until well-combined. Slice the banana(s) into 24 slices. Spoon some of the mixture into each cupcake liner, then place a piece of sliced banana on top, sprinkled with some of the sesame seeds. Place cupcake cups on tray in freezer and freeze until batter is set, for about 5 or so minutes.
The batter
After first freezing phase
Take the tray out of the freezer then spoon the rest of the batter on top. Sprinkle with sesame seeds and then place tray back into freezer.
Allow treats to freeze for at least one hour before serving.
Now, to "add a little something", I placed a single, fat blueberry on top of each treat to make it look a little more appealing. I think they came out cuter-looking that way, and you can of course get even more creative with whatever you choose.
Another thing I did to make things more fun was to put blueberries in the middle of one of the treats for one of the kids to find. Whoever got the treat with the blueberries in the middle won a prize! (In this case, my friend's daughter found them and she won a word card game. She was very pleased with this:).
After taking my first bite, I thought of so many other creative ways you can mix this recipe up. Here are some suggestions:
use peanut or almond butter in place of tahini

add raw carob or chocolate shavings as topping

add extra fruit to the middle or top

mix chocolate, vanilla, almond, etc. flavoring into batter

put jelly in the middle
I am going to try and make them with peanut butter and chocolate next time! They may go over better with the pickier eaters in my life that way. Plus, how can such a flavor combination go wrong?
The general consensus of this recipe among my family and guests was:
Friend 1: "Good, but weird."
Friend 2: "Tastes like halvah; could use more banana."
Daughter of friend 1: "No thanks." (she's vegan)
Daughter of friend 2: "Yum." (she found the blueberries)
Lily: peeled off the banana and left the rest
Paul: "Yuck!"
Me: "Yum, yum, yum, I'll eat the rest!"
I hope the mixed response does not deter you from trying this if you're curious and especially if you're passionate about raw food and healthy eating. This is super-easy and cheap to make and definitely a much better alternative to store-brought popsicles and ice cream.
Tahini is an incredibly tasty and versatile ingredient that I don't think is used much at all in the western world. It is a very popular condiment and ingredient in parts of Africa and the Middle East, used as a sauce in many yummy dishes. Tahini is essentially sesame paste; when mixed with water and a little salt, if makes a salty, nutty sauce that can be used as a topping on things like tofu, chicken and vegetables, or as a great salad dressing. This is the first time I've seen it used in a dessert other than Halvah. If you don't know what Halvah is, it is like a Turkish candy bar (pictured below).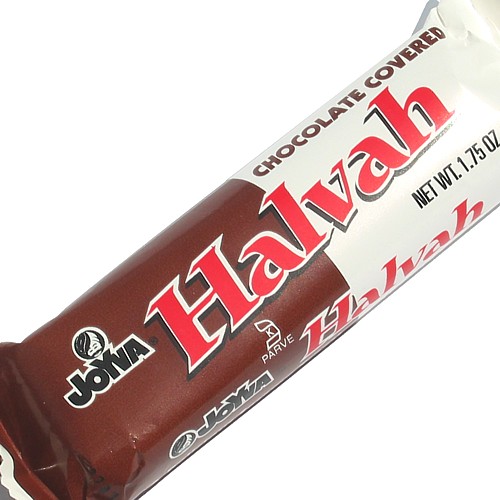 Halvah can also refer to any sweet, dense sesame seed treat, but this is the most recognized and commercial version in the West
Sesame seeds contain an abundance of vitamins and minerals such as copper, manganese, calcium, iron and vitamin B1, plus much more! That's a lot for such a small seed. These nutrients can help heal and prevent ailments such as arthritis, colon cancer, and osteoperosis. They also help to lower cholesterol and support bone health.
Have a happy Meatless Monday and do let me know if you try this unique recipe, and also if you decide to pass it on as well :)